Want more Halloween in your life? From livening up a conference call to the ultimate Halloween soundtrack, it's all here.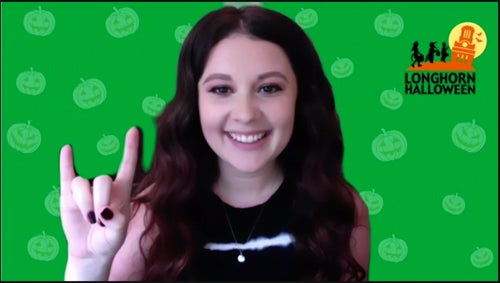 Show your spooky spirit the week of Halloween with the Longhorn Halloween Zoom Backgrounds! Access the options below.

Spotify Playlist
A playlist created by YOU for this Longhorn Halloween!


Get swept away with an incredible Organ concert performed by Gregory Eaton, a lecturer in Organ and Harpsichord in the College of Fine Arts' Butler School of Music, and recorded by Andrew Stoltz with the College of Fine Arts' Butler School of Music. 
Pieces performed and composers: 
The North Wind by Alec Rowley
Intensity/Suspense by Edwin Lemare
Toccata & Fugue in D minor by J.S. Bach
The Funeral March of a Marionette by Charles Gounod
Toccata by Leon Boellmann

Social Media
Share your experiences on social media and connect with the rest of Longhorn Nation! Simply share your pictures on Instagram and Twitter with the hashtag #LonghornHalloween. You will have the chance to be featured on the Longhorn Halloween home page!

Want to watch all the videos available from Longhorn Halloween? Check out The University of Texas at Austin's YouTube page!